Church Postcard Collection
---
The Society is the beneficiary of a collection of nearly 6,000 church postcards of Southern Baptist churches located in the 14 states south of the Mason-Dixon Line, plus one western state.
These states – where Southern Baptist churches were once prominent – include: Alabama, Arkansas, California, Florida, Georgia, Kentucky, Louisiana, Mississippi, North Carolina, Oklahoma, South Carolina, Tennessee, Texas, Virginia and West Virginia. The historic significance of these postcards is that they provide, in many cases, the only historic and present day visual image of the churches in the collection. It also provides an architectural history of church buildings from the early 1900s to about 1970 when postcards fell into disuse.
The Florida Baptist Postcard Collection is the only unique collection of its kind that is available on line. The collection contains nearly 6,000 cards, representing 1,720 cities, over 2,200 churches and 160 state Baptist convention agencies and institutions.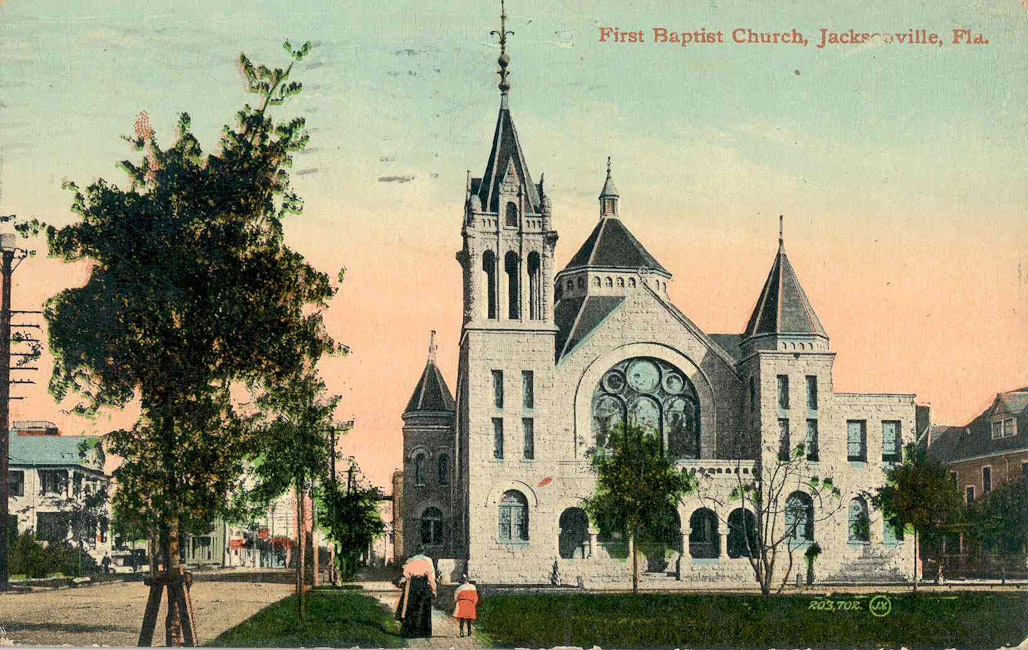 Scroll over highlighted states to view postcards
By the numbers: Our Baptist historical resources
The Florida Baptist Historical Society maintains an extensive collection of historical resources and conducts historical research.
Historic Postcards of Baptist Churches
Long before the modern development of electronic E-mail, written communications between business associates, friends and family members were accomplished by handwritten letters and notes which required pen, ink, paper and envelopes.
As an alternative to the formal letter and as a means to provide for a quick and short message, the development of post cards occurred during the late Nineteenth Century. Between 1873 and 1898 the only post cards that could be legally sent through the U.S. mail were unadorned, cream-colored card stock, measuring approximately 3-1/4 by 5-1/2 inches and issued by the U.S. Government with a pre-printed postage of one cent.
Postcards as a Marketing Medium
Starting in 1872 government-issued postcards were imprinted with advertising for a variety of businesses ranging from banks to trains to hotels and to colleges.  By 1898 for profit companies were permitted to publish and distribute "private mailing cards", as the postcards were called.  Competition between publishers contributed to the postcard's popularity as both an art form and communication medium. The post cards' diversity featured artistic images, cartoons, patriotic designs, holiday greetings as well as images of famous people, places and historical events.
Many states in the South with coastline beaches developed into tourist destinations beginning in the early Twentieth Century.  Local chambers of commerce, as well as tourist and real estate promoters, used postcards to promote potential destination cities for tourists and winter residential visitors.  Those images featured prominent hotels and motels, tourist and "unusual" attractions, as well as the leisured lifestyle of the coastline.
It only was a matter of time before church leadership saw the marketing potential and economical advertising options available through the postcard.  It is difficult to pinpoint exactly when churches first began distributing postcards that featured sanctuaries, educational buildings or interior photographs of worship facilities.  An Austrian photographer, Joseph Albert (1825-1886), invented a process that permitted high speed mass printing production of photographs for the first time.  These Albertypes, as they were called, permitted an economical production and distribution of all types of postcards.
Some of the earliest images of church facilities were pen and ink drawings or black and white photographs (1890-1920), which in some cases were enhanced by a blue-tinted skyline or hand coloring of the image.  As publishing capabilities improved, postcard formats evolved into colored architectural renderings (1910-1940), higher quality black and white photographs (1940-1960) and finally Kodachrome color photographs (beginning in the 1960s).
The initial Collection of Baptist Church Historical Postcards represented hundreds of congregations within Florida.  Recent expansion of the collection now includes Baptist churches in Georgia, Alabama, South Carolina and California.  Within each state directory is an alphabetical listing of the cities which provides a sub-directory listing of churches in those cities with featured postcards.  Most of these cities, at one time or another, were either major train stops or tourist destinations.  Some churches exploited the use of postcards, as reflected in the variety and number of cards some churches issued.  These postcards were often given as a memento to Sunday visitors, who in turn, used the card to send a message "up North."  Other churches used the postcard to send greetings to visitors and reminder messages to church members.
This collection was developed and assembled by Donald S. Hepburn of the Florida Baptist Convention.  The Historical Postcard Collection, consisting of digital images as well as the original postcards, is permanently maintained as a part of the Florida Baptist Historical Collection jointly managed by the Florida Baptist Historical Society and The Baptist College of Florida, Graceville, Florida.
A Reflection of Church Architectural Styles
As previously noted, practically all church postcards featured a church's main sanctuary. The historic significance of these images is that they provide the only remaining visual record of many Baptist church buildings in the Southeast.  Collectively, these church postcard images provide an interesting historical record of how the architecture of church buildings changed during the Twentieth Century.  Unfortunately – from a historian's perspective – by the late 1970s or early 1980s, postcards had become passè and as a result were no longer a favored advertising or communication medium for Baptist churches.
A limited number of early postcards picture simple wooden structures that served as places of worship for many Baptist churches.  As basic one room buildings, all activities were conducted within this space including Bible study classes there were often consigned to one of the four corners.  As the Sunday school movement grew, it became an influential factor in the design of church buildings.  Rooms were constructed at the side and rear of the one room building.  Congregations with significant financial resources were able to construct larger and grander buildings, incorporated classroom space into the design.  These multi-storied edifices permitted Sunday school classroom space on the ground level located underneath a multi-tiered sanctuary on the second and third levels.  Eventually separate, stand alone buildings were constructed to accommodate the educational needs of Baptist churches.
Many church postcards – published between the late 1920s to the mid-1930s – featured church buildings that appear to have been constructed from similar architectural plans. These brick and mortar edifices, many with stately columns and prominent stairways escalating from the sidewalk to the main floor located 15 to 20 feet above the ground, were designed to make a visual statement.  These large and grand buildings were the result of improved engineering and construction techniques that enhanced the use of steel, concrete, brick and mortar.  In many towns these church buildings were as prominent as any bank, store or courthouse in the community. And it is probably no coincidence that the Baptist church building competed in size, architectural design and visual appearance – except without the steeple and cross – as neighboring Methodist, Presbyterian or Catholic churches.  [Revised July, 2010]
Do You Have a Postcard of a Baptist church located in the South?
If you have a postcard of a Baptist church located in the South and would like to contribute to the Historical Postcard Collection, it could be done very easily. We would prefer to add the original postcard to the Collection, but in lieu of that we will gladly accept a digital version. Please use the link provided to send to us a digital copy. All images must be at least 300 dpi with the scan of the entire image side. We also would appreciate a scan of the reverse (mailing/message) side which will help date the time period in which the postcard was published.
We would gladly receive any original Baptist church postcards that you could donate to the Florida Baptist Historical Postcard Collection. Place the postcard flat in an envelope and address and mail to:
Florida Baptist Historical Society
P.O. Box 95
Graceville, Florida 32440